Digital Advertising Media
Automated production of digital advertising materials at the push of a button
Whether online banners, landing pages or email newsletters: with MPP.360, you can produce your digital advertising media easily, cost-effectively and quickly, based on your templates and 100% in compliance with your corporate design specifications.
Increased efficiency
Automated production
MPP.360 automates the production of your digital advertising media and does so on the basis of your company's own templates. At the click of a button, a wide range of digital advertising materials are created for every purpose, with all the variants you want and in numerous formats.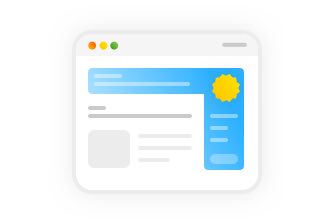 Banners
Produce animated banner sets in any number of banner formats.
Newsletters
Transfer content, images, and tracking links directly into your newsletter templates.
Social media posts
Combine text and image content for social media posts for different networks.
Teasers
Create a variety of formats for images, graphics and ad spaces at the touch of a button. No graphics programmes are required.
Landing pages
Create complete microsites with all required content and specifications.
Advertising media mix
Generate a set of different advertising materials directly from the order: landing pages, banners – and even print.
Central templates
Template management
MPP.360 template management ensures that only the templates that are approved by your corporate design get used. Load your templates for banners, newsletters, posts or landing pages in the formats that are required in each case. And if anything changes, you can replace it centrally in just a single place in the Templates Centre.
In one flow
Produce automatically
MPP.360 combines order and production processes in a unique way. Once content has been entered, it can can be further processed by a wide range of automation options. Whether it's faster cropping of images or the complex assembly of advertising materials, MPP.360 orchestrates the entire process in a single flow, right down to the final production of the finished advertising media.
Increase efficiency
Create versions
MMPP.360 delivers exactly the format and content versions you need for your marketing at the push of a button. Whether internationalisation, personalisation, or simply versions with varying dimensions for different portals – there are barely any limits on automation and increasing efficiency. And you get all this without errors and without the need for additional staff.
Further product modules
These could also be of interest