Export Management
Export finished marketing materials
MPP.360 offers perfect technical integration into your MarTech stack: whether DAM, PIM, a CMS, CRM, ad servers, email dispatch systems or printing companies. MPP.360 controls the distribution of the finished materials that have been produced to your marketing systems.
Automatic distribution
Advertising materials where they are needed
Once production is complete, MPP.360 delivers content and advertising materials precisely where they're needed. And it does so with controlled timings and in the correct format: whether to service providers, internal employees or your marketing systems.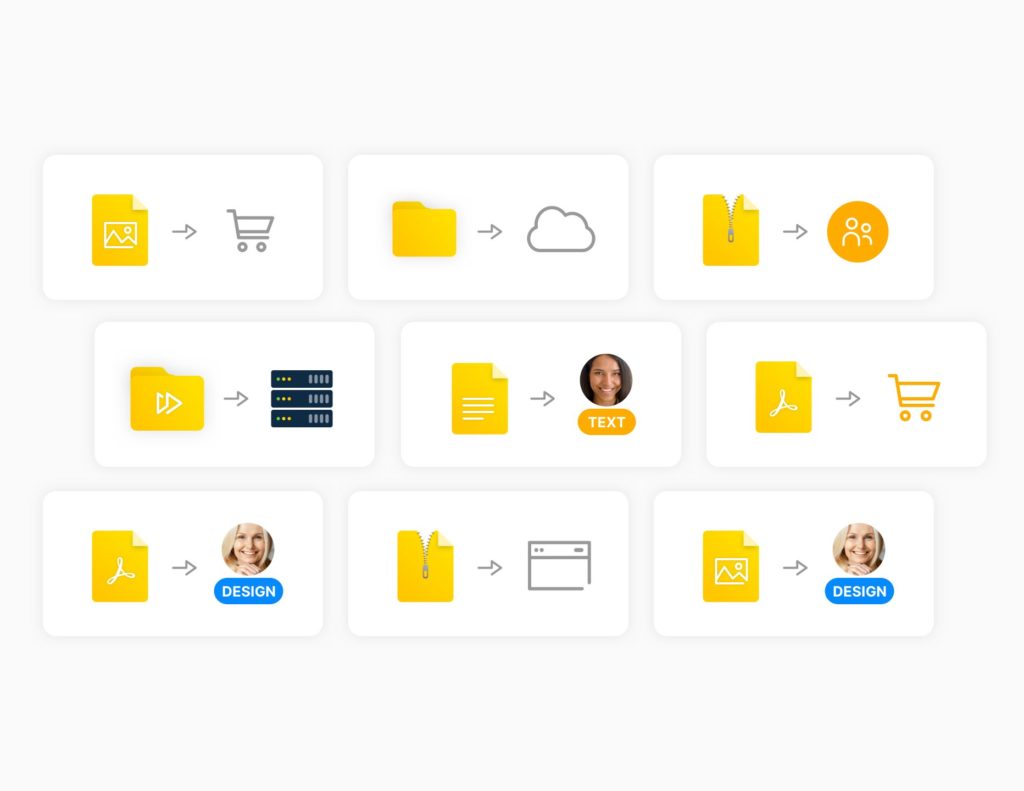 Technical integration
Marketing systems
Once your marketing documents have been completed, MPP.360 connects with numerous different marketing systems and hands over the advertising materials for further processing: whether it's email delivery systems, ad servers, the Salesforce Marketing Cloud or portals: you decide where your marketing materials produced with MPP.360 should end up. And this can be done as a packaged zip file, via an API call or by means of a transfer server.
Storage systems
DAM and PIM
Dam and PIM systems are important building blocks in many MarTech stacks for storing individual content components or finished advertising materials. With MPP.360, your marketing materials that have been produced end up exactly where they need to be stored. And they get there with all the required metadata and production information.
Controlled timings
Schedule exports
In order to ensure that the finished advertising and communication media are deployed at the right time, MPP.360 offers scheduling for for their distribution. You decide when something should be transferred to the subsequent systems: even when at night, on weekends or during your holidays.
Practical
Distribute by email
MPP.360 offers powerful distribution of your content via email. Define recipient groups or individuals. The content will land directly in the email inbox of your recipients, as a zip file or as well-structured content in many formats.
Downloads
Transfer servers
Is your content needed on another server? The technical transfer to S3 buckets or sFTPs is also offered as part of MPP.360 export management.
API
Technical integration
Does your content need to be transferred to your own applications, for which specific structures and transfers via API are required? With MPP.360, you can transfer content via a webhook directly from MPP.360 to all your peripheral systems that can be accessed via API.
Further product modules
These might also be of interest